RealPoker
Poker
(Rating: 3 - Based on 2 Votes)
Bitcoin Casino Details
Casino Type:
WEB | MOBILE
Casino Games:
TEXAS HOLD'EM [Sit n Go, Cash Games, Tournaments]
Restricted Countries:
USA | AFGHANISTAN | ALGERIA | AMERICAN SAMOA | AZERBAIJAN | BANGLADESH | BARBADOS | BHUTAN | BRAZIL | BELARUS | CAMBODIA | CHINA | CUBA | CYPRUS | CZECH REPUBLIC | ECUADOR | FRANCE | GREECE | GUATMALA | ICELAND | ITALY | INDONEISA | IRAN | IRAQ | ISRAEL | JAPAN | JORDAN | KUWAIT | KYRGYSTAN | LATVIA | LIBYA | LITHUANIA | MALDIVES | MALI | MAURITIUS | NORWAY | OMAN | PAKISTAN | QATAR | SAUDI ARABIA | SOMALIA | SUDAN | SYRIA | TAIWAN | TURKEY | UAE | UKRAINE | UZBEKISTAN
Withdraw Time:
24 - 48 HRS
Withdraw Limit:
1 BTC per 24 HRS
Support:
Support Request Page
Overview
Free BTC Bonus without any deposit
Interesting Features [Cashback, RP Points]
Cash Games, Sit n Go and Tournaments available
Lots of Country Restricitons
Missing License
Bitcoin Casino Review
RealPoker net Review – BitGamble
Overview:
RealPoker net is an authentic bitcoin poker website that lets you play Texas Hold'em poker against other players in Cash Game mode or in other styles such as Sit & Go and traditional tournaments. The whole interface looks okay, it can be a bit confusing for new users since there are many tabs on the website that you might not use since RealPoker has a sports betting section and a coin flip head to head match, we personally advise to use other casinos if you are looking to bet on sports.
It is best to stick to their poker game. RealPoker is browser-based and does not require you to download a software. You can download their Android APK if you are looking to play on mobile, unfortunately iOS is not supported yet.
Features:
The platform has 3 main sections; Bitcoin Poker, Bitcoin Fantasy Sports and Flip a coin.
Bitcoin Poker is the area that we will cover, you can always try your luck with their "flip a coin" game where you bet against another player by picking "Heads" or "Tails" pre-match, and the winner takes the pot.
Texas Hold'em is the only bitcoin poker game available, the most popular mode played on RealPoker is the Cash Games which are live action games with no settled, meaning players can enter and leave the table whenever they want. RealPoker uses competitive rakes starting at 3.8% on some tables and a bit higher on others.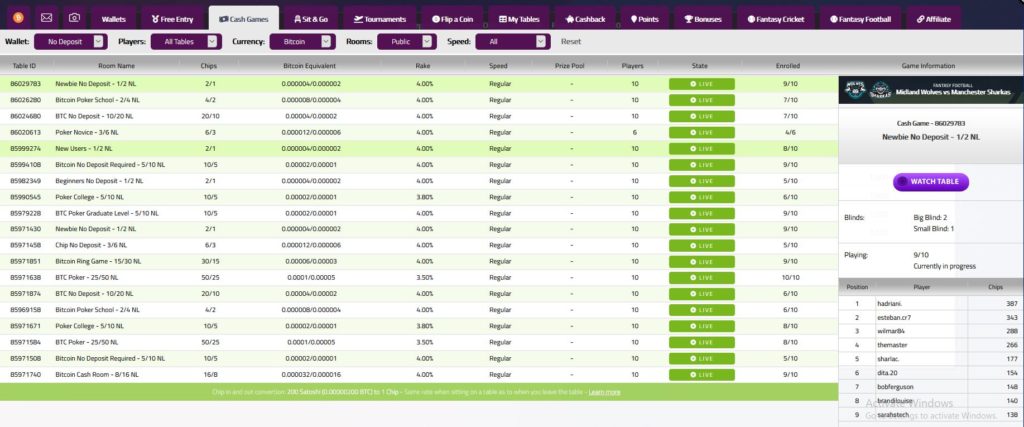 The poker game interface is smooth you can watch the game play of each  match even if you are not participating, you can also customize your in-game table by choosing many design themes which is a nice addition. The use of a Voice assistant is a cool feature that they have added.
While you are playing on a table, your Bitcoin is converted to poker chips, currently each 200 satoshi equals 1 chip. When you leave the table the poker chips are converted back to bitcoin.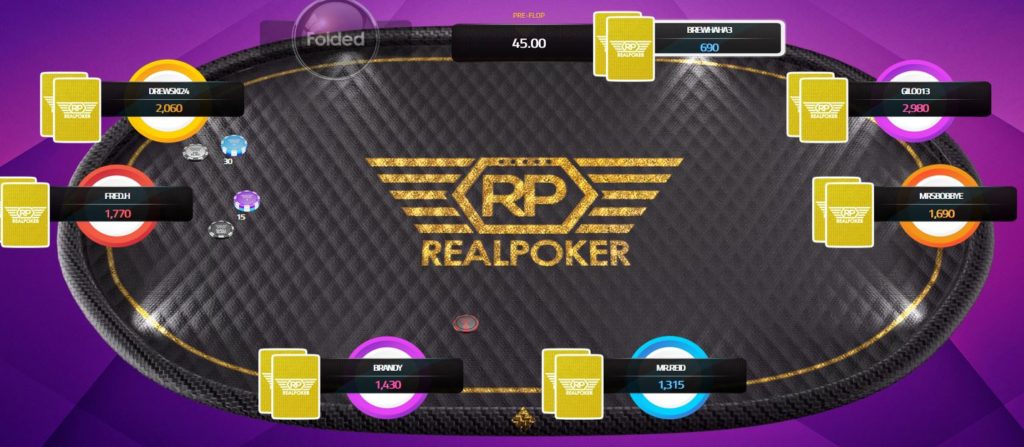 WELCOME PACKAGE BONUS:You get a free 0.0015 BTC when you sign up which gets deposited in a special balance (NoDeposit Bonus) which is an awesome feature from RealPoker that allows you to test the platform. Bonus Conditions Apply.

They implement an interesting loyalty program where you generate rakeback or cashback when you play, which is a great addition that helps you in recovering some losses. You also earn RPP Points, when you have enough accumulated points you can exchange them for items such as an iphone, ps4 and other goodies.
You also level up the more games you play, and with each level comes a distinctive reward.
Btc Deposits require 3 to confirm, you are limited to withdraw 1 BTC each 24 hours, and a minimum withdrawal amount of 0.001 BTC
RealPoker net review Analysis



RealPoker net is one of the few legitimate bitcoin poker websites in the cryptocurrency poker scene, the game play is smooth and the platform is rich in features and recurrent players, you will always find high action packed tables and tournaments with attractive prize pools. Signing up on the platform is fast and does not even need an email confirmation.
According to third party traffic analytics the platform receives a good amount of visitors per month, estimated between 1,000,100 – 1,527,300 a month [Last Checked 24.5.2020].
Support can only be contacted by opening a support request, we tested it and they are fast to reply which is great if you need some assistance.
It is a worth giving it a try if you are looking to play poker with your bitcoin.
Join RealPoker
Report Casino