Scam Details
URL:
Cryptocurrency Exchange Scam
IP Address:
80.87.201.11 (FirstVds.ru)
WhoIs:
Namecheap / PRIVACY
Zelbit Exchange Scam – Bitgamble
Overview:
Zelbit Exchange is a cryptocurrency exchange scam that first appeared somewhere around 2020-07-25. The scammers have built a fake exchange known as Zelbit.Exchange (do not visit link).  They make use of a smart strategy to lure innocent users into their platform by convincing them that they won 0.71 BTC, and in order to withdraw  earnings, users  would have to make a deposit of 0.05 BTC (First Major Red Flag)
The Scamming Process:
The scammers behind Zelbit Exchange approach their victims via Discord, they monitor popular cryptocurrency groups and use their bots to contact each user inside of these groups, they  send you a message similar to the below: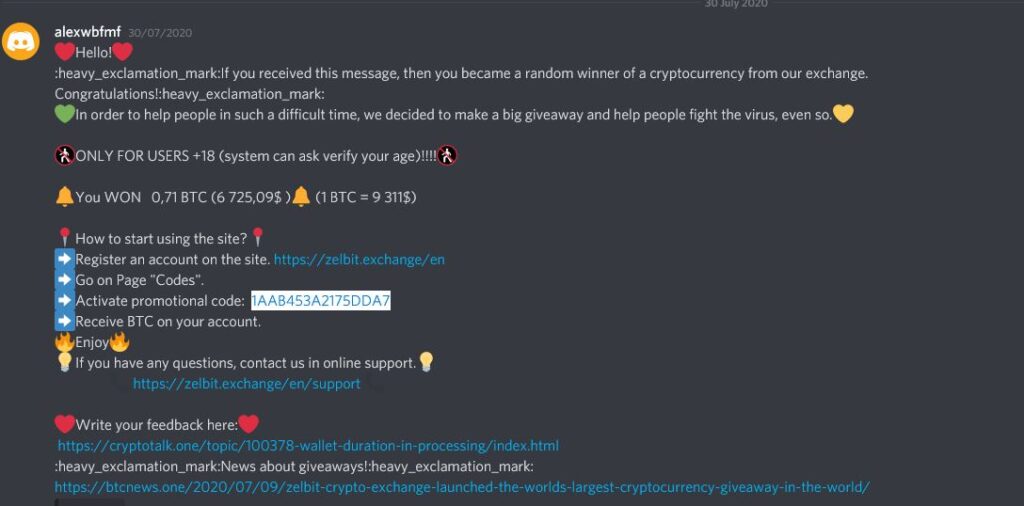 At first glance, the message can be kind of convincing, since you might think that it is a newly launched exchange that is doing some kind of promotion, even though the amount of (0.71 BTC) is illogical and that is too much Bitcoin to use for a marketing campaign.
If you visit Zelbit Exchange, you will notice a very professional looking interface, with lots of  'features' ( none are functional) and the exchange is using a  simple script to make it seem as if there are live trades going on, it has an overall feel that is similar to Binance. It is very probable that the scammers are using some ready made template because it is not the first time that we come across such scam in the cryptocurrency cyberspace. Check out Kavbit, it is using the same template and it is a similar scam.

To further convince unsuspecting users, the scammers are using a news website known as Btcnews.one and a forum known as cryptotalk.one. If you visit these links, it looks kind of legit at fist glance but the more you pay attention to details the more fake those websites are, with most functionalities either not working.
Pay close attention to cryptotalk.one, if you attempt to register an account it will redirect you to cryptotalk.org ( a legitimate forum) the scammers are just using the same template and similar name to confuse users. Those two websites are just supporting assets that are in the hands of the scammer to further manipulate and convince their victims, do not get fooled by the conversations on forums or the articles on the news site.
A small DNS recon reveals that both BTCnews.one and cryptotalk.one are hosted on the same IP ( 188.127.225.100 ) and use the same mailing servers, which implies that they are both owned by the same person.


However the IP is different than the one for Zelbit Exchange (80.87.201.11), it might be the same owner using different ip's for diversification purposes or simply just another partner in crime. Both ip's are hosted on Russian servers and websites which might somehow give a small indice of where the scammer originates from.
Now back to Zelbit Exchange, if you attempt to follow-up with the scam, by creating an account ( there is no email validation, what kind of reputable exchange allows users to create an account without email confirmation) and using the "Code" provided by their bot on discord, you will notice that your account gets 'credited' and if you click on withdraw you get a message notifying you, that your funds are frozen and in order to withdraw as a way to "protect from bots" you need to make a deposit of 0.05 BTC.

DO NOT MAKE A DEPOSIT!! You will never receive 0.71 BTC and you will just have your BTC robbed from you.
Anything that sounds too good to be true, is most probably not true, if you are looking for legitimate ways to earn free bitcoin, you can always try bitcoin faucets  where you can earn a few satoshi on each action completed.
If you dodged a bullet with this scam, you can try your luck and  browse our list of trusted online casinos, at least you have a better chance of winning than by randomly sending it away to strangers online.
Stay Safe and always bet responsibly