SwC Poker
Poker
(Rating: 4 - Based on 1 Votes)
Overview
Multiple Poker Games
Low Rakes
Enhanced Anonimity
Open to All Players Worldwide
Lower Traffic
Bitcoin Casino Review
SwC Poker Review – BitGamble
Overview:
SwC Poker ( Seal with Coins) is an old school bitcoin poker site where you can play Texas Hold'em and many other poker games in style of cash games, tournaments or Sit & Go. Bitcoin is the only currency that you can use on this platform. The interface is unique, it has that cool retro vibe and is pleasant to navigate the website.
SwC Poker can be both enjoyed by browser or by downloading their software on desktop or mobile, all available in Android, Windows and MAC.
Features:
The platform has multiple poker games to choose from, they tend to cater to niche poker players since you may find games that are unavailable on other bitcoin poker sites, you will find poker games such as:
Texas Hold'em: the classical hold'em game availaible in 3 types:
Fixed-Limit, where the amount of bets/raises have a fixed limit per round
Pot-Limit, where the maximum amount of a bet is limited by the pot
No-Limit, where there is no limit to the maximum bet that you can make
Omaha: available in classical form, Omaha Hi/Lo, 5 Card Omaha, 5 Card Omaha Hi/ Lo & Omaha Courchevel another variant of Omaha
All Omaha games can also be played in Fixed-Limit, Pot-Limit or No-Limit
7 Card Stud: available in classic form, Stud Hi/Lo & Razz which is another variant of Stud
All Stud games can only be played in No-Limit
Chinese: available in classic form, open face (OFC), OFC/P, OFC/P 2-7 and progressive pineapple
Draw: 2-7 Triple Draw and other variants such as Badugi, Badeucy and Badacey
All Draw games can only be played in Fixed-Limit
Pineapple Poker: available only in No-Limit type games
In addition to other less known poker game genres.
In cash games, texas hold'em seems to be by far the most played game, you will always find other players to join and tables that are saturated, other poker genres have less players compared to Hold'em. The action in the Tournaments section, is always pumping! you can win big prizes, and they schedule weekly BIG tournaments where the prize pool might reach up to 0.5 BTC
The rake that swc poker uses is one of the lowest compared to other bitcoin poker sites, they use a very competitive rake which averages around 2% more or less. They implement an interesting loyalty programs where active players are rewarded with "Krill" Points, and the more Krill you have, the more permanent rake-back and other exclusive features you get, your rake-back can reach up to 50%!. In addition to this program SwC Poker runs many promotional events with exclusive features such as 0% rake events, free-roll events and many more!
——————————————————————————————————————–
USE CODE: bitgambleorg during sign-up and get a bonus rakeback on signup

———————————————————————————————————————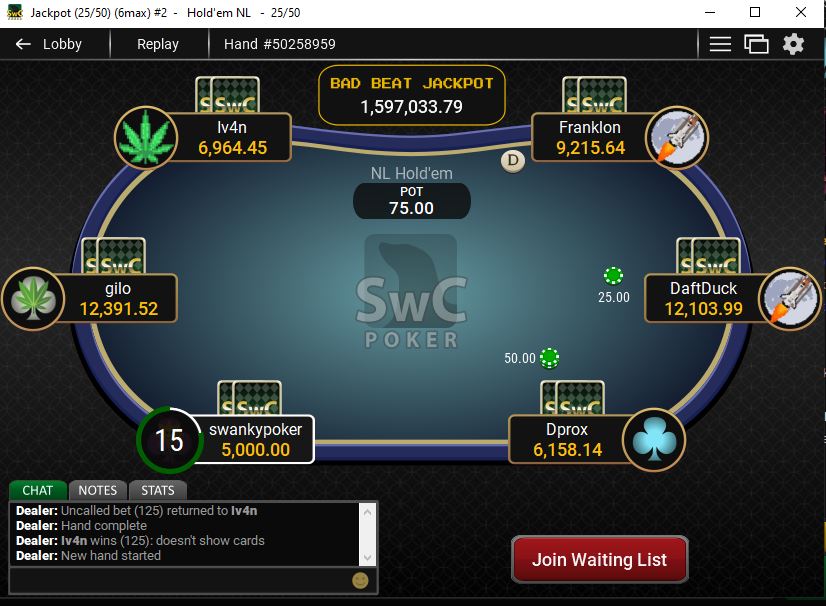 The poker game interface is neat you can watch the in-game action of each table that is in progress even if you are not participating, you can also customize your in-game table by choosing many design themes which is another cool feature.
While you are playing on a table, your Bitcoin is converted to poker chips, currently each 1 μBTC ( 100 satoshi) equals 1 chip. Deposits only need 1 confirmation to process and withdrawals are usually processed in less than 12 hours, with some even barely taking an hour.
SwC Poker Review Analysis
SwC poker is a Bitcoin exclusive poker site developed by poker professionals and crypto enthusiasts, the project was developed since 2013 and has gone though multiple revisions and enhancements to reach Version 3.0 a complete bitcoin poker site and software that includes almost all poker genres! Even though not much known is known about the founders behind SwC Poker, they seem very dedicated in the management of this platform, they offer the lowest rakes in the industry and abide by complete anonymity where no data collection or country restriction is imposed.
According to third party traffic analytics the platform receives a low amount of visitors per month, estimated between 70K – 80K a month [Last Checked 15.6.2020], however you will always find between 100-280 active players on the site or app which means that you will never come across empty tables or no poker action.
Support can be contacted by email, we tested it and they are fast to reply which is great if you need some assistance, you can also use their rich FAQ section or chatbox for any additional help. You can also visit their bitcoin talk thread for a deeper understanding of the project.
We recommend SwC Poker if both Bitcoin and Poker are your thing!
Join SwC Poker
Report Casino