Crypto Mining Game
(Rating: 4.5 - Based on 4 Votes)
Earning Type: Faucet, Games, Offer Wall
Crypto Mining Game Review
Crypto Mining Game is a novel concept in the Bitoin Faucet industry, it is something that we have seen before. It is a hybrid mixture between a faucet website, an RPG game and a card collecting battle game. The platform was created in 2017 and has a come a long way since. Crypto Mining Game is free to join and you can earn BTC, DOGE, LTC, BCH, DASH, ETH and other in-game coins which might give you a boost to your earnings.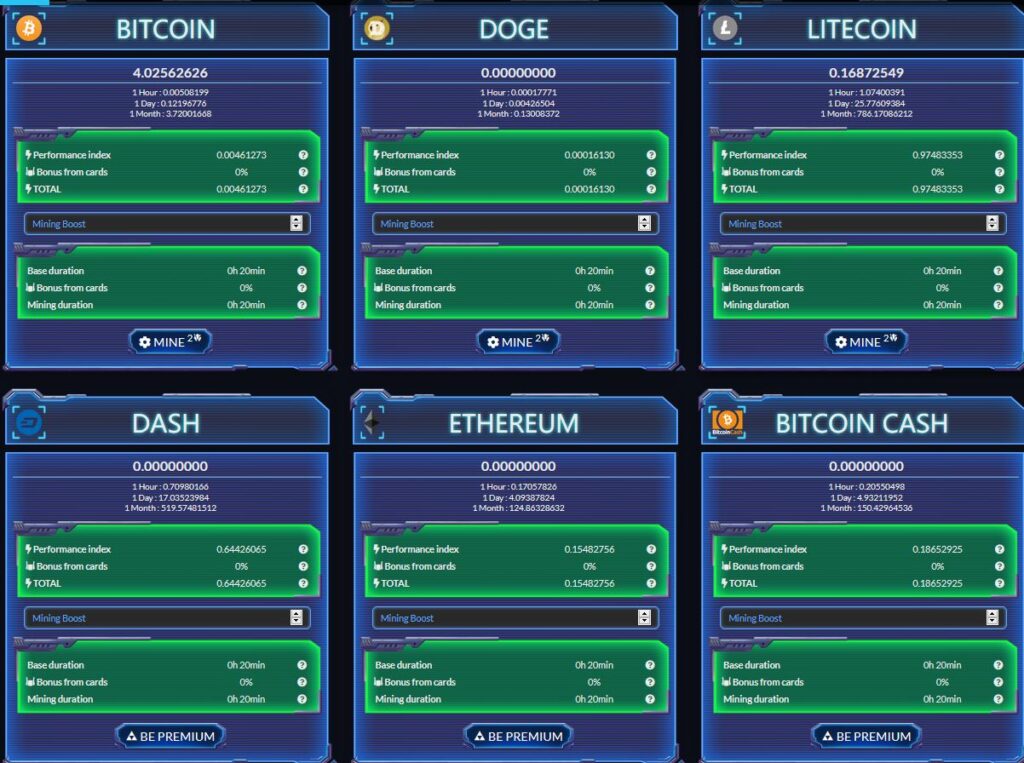 How It Works:
Crypto Mining Game can be a bit confusing and overwhelming for players that have just signed up since there are lots of information on-screen.  However by completing the tutorial and spending a bit of time on the platform, the user interface will start making more sense.
There are few key points that you need to be informed of to properly understand how Crypto Mining Game works
Your Level: You need XP to level up, you gain XP by completing missions and other tasks. The higher level you are, the higher the rewards that you get.
HPower: The more Hpower you have the higher your profitability, you can increase your hpower by doing missions.
Energy: Energy are your action points, anything you do consumes energy, it can be easily refilled if consumed
Crystals: Crystals are one of the main in-game currencies, crystals are used to mine (using the faucet), explore the map, activate missions, etc
CGT Coin: CGT coins are native ERC20 tokens used by Crypto Mining Game. Till now the use case is still under process, for the time being it can be used in the shop to buy items.
CryptoCoinz: An in-game coin that can be used to evolve your cards.
VP Points: Victory Points are won everytime you win a battle, at the end of each season the top 100 players who have the most VP points get rewards.
There are multiple ways of earning cryptocurrencies by playing Crypto Mining Game:
Mining: NON CPU based mining, you can mine cryptocurrencies by consuming energy, the higher your level and hpower the better your earnings
Jobs: Completing jobs to earn crypto
Exploring the Map and attacking players.
Completing Quests, offerwalls (surveys)
Playing Mini-Games
Many more
In addition to the list above, players can also enter a daily lottery in a chance to win coins. Hardcore players or users that are enjoying this game can upgrade their account to a premium membership to benefit from extra rewards and no ads, or use the shop to buy boosts and other goodies.
Withdrawals:
You need to reach Level 15 in order to issue withdrawals. As soon as you have 0.0005 BTC, you can  issue a withdrawal to your BTC wallet.
Join "Crypto Mining Game" Now