FireFaucet Win
(Rating: 4.33 - Based on 3 Votes)
Earning Type: Autofaucet, Offer Wall, PTC
FireFaucet Win
FireFaucet is a free bitcoin Autofaucet website that has been around since 2018. The concept behind FireFaucet is simple, you earn ACP ( Auto Claim Points) by completing tasks, surveys, watch ads, etc, you can later use your ACP Points to earn cryptocurrencies by starting the Auto Faucet or directly convert those points to cryptocurrencies. There are multiple cryptocurrencies that you can earn such as BTC, LTC, ETH, DOGE, DASH, TRX, ZEC & DGB.
Features:
When you first sign up on FireFaucet, you are greeted with free ACP Points,before you start your Auto-Faucet, you need to choose which currencies you would like to auto-claim:
Based on the currency selected, your auto faucet starts generating satoshis, you can check below the payout per 100 ACP points, even though the rates are lower than other faucet platforms, you can always increase your payout boos to a maximum of x4, but keep in mind that this way you will consume more ACP points.
Keep your tab open and start receiving your satoshis! Do not attempt to use bots or cheat the system, you will directly get banned.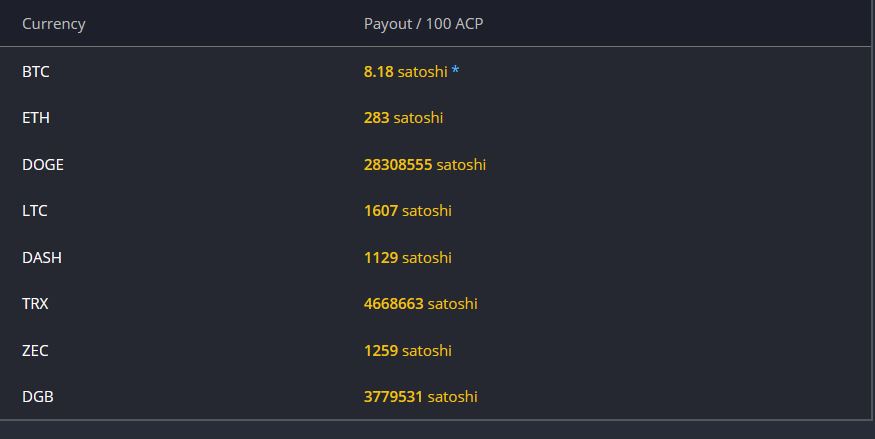 There are multitude ways to earn ACP Points on Firefaucet:
PTC & Shortlinks
OfferWall
Tasks
You also earn free ACP points by claiming your daily bonus that regenerates every few hours. Active players are rewarded with extra points which they can use to level up and gain rewards. Players with the most Activity points also get rewarded.
You earn Activity Points the more you interact with the platform.
Withdrawals:
For BTC, the minimum withdrawal is 0.0003 BTC and there are no transaction fees involved.
Join "FireFaucet Win" Now