Coinpoker
Poker
(Rating: 5 - Based on 1 Votes)
Overview
Decentralized Card Shuffling
Crypto Friendly
Top Team
Only Available by Software Download
Lower Traffic
Balance gets converted to CHP which might be unstable
Bitcoin Casino Review
CoinPoker Review – BitGamble
Overview:
CoinPoker is a decentralized crypto poker platform that operates on the Ethereum blockchain by using smart contracts. There are multiple poker games available such as Texas Hold'em, Omaha and 5 Cards Omaha, all available in cash games and tournament style. In addition to a newly released sportsbook section. In this CoinPoker Review we will only focus on the poker section.
The interface looks nice by using a minimalist style. CoinPoker can only be played by installing their client software or on mobile, available in iOS or Android.
Features:
CoinPoker has a unique coin (CHP) which is an ERC-20 token based on the Ethereum blockchain and is the main currency that is used during play. the positive side is that it promotes transparency in transactions since it can be publicly verified and allows fast deposits and withdrawals, the negative side is that if you decide to deposit in BTC or ETH the value of your coins will be converted to CHP and might change depending on its own value.
CoinPoker hosts multiple poker games:
Texas Hold'em
Omaha
Omaha 5 Cards
Open Face Poker
Cosmic Spins
You may be familiar with most of the poker games but may wonder what Cosmic Spins is, it is basically Texas Hold'em on steroids, where you are granted an additional multiplier up to x1000 on the total prize pool by spinning the cosmic wheel.
The core feature of CoinPoker is that they use a decentralized random number generation (RNG) when shuffling cards, it gives the power to its users to prove the fairness of each shuffle after each hand is completed.
CoinPoker uses a low rake % it is only 2% of the pot in Hold'em, Omaha and Omaha Five Card and just 1% of the pot in Open Face Poker Games and it is approximately 5% on tournaments and their Cosmic Spin game.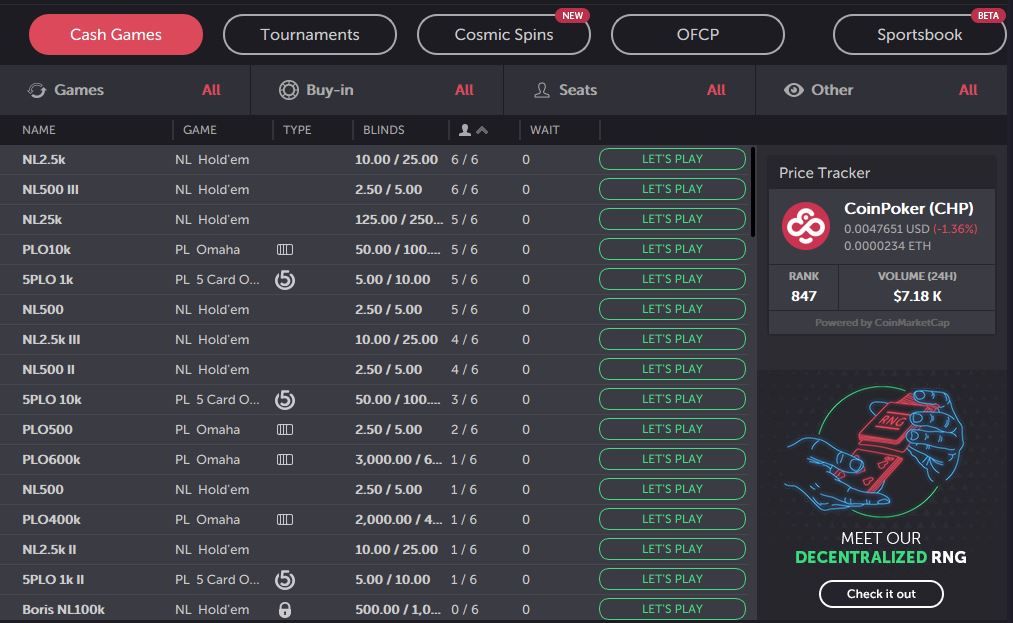 The poker game interface is smooth you can watch the game play of each match even if you are not participating, you can also customize your in-game table by choosing many design themes available from your profile menu, which is a nice addition.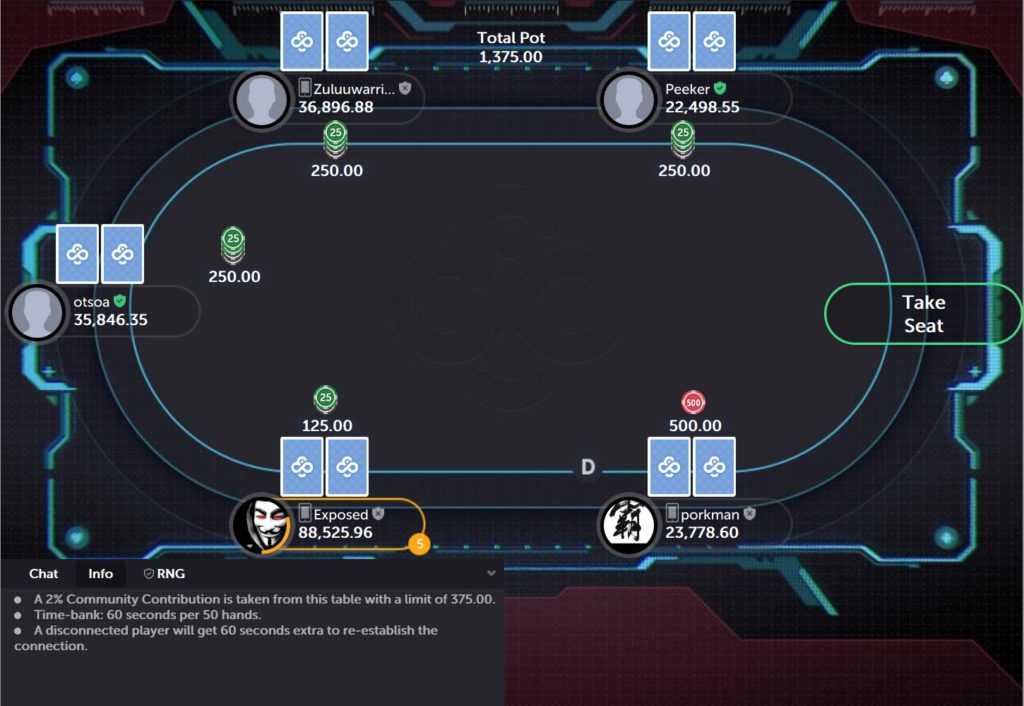 BONUS: You can get 1000 CHP as a welcome bonus, however it will only get credited if you contribute 100 CHP back to the community.

CoinPoker Review Analysis



CoinPoker is a pioneer when it comes to integrating blockchain technology and enhanced transparency to the realm of traditional poker, it was the first crypto poker platform to be successfully funded via ICO in 2017. the team behind CoinPoker are professionals that had a great vision to mix and match crypto with poker, they have top advisors in their team including Antanas Guoga, a world renowned professional player. They are using a top tier software which makes the engine smooth and enjoyable while in-game.
However the platform lacks active and recurrent players, which is the major downside of this platform. According to third party traffic analytics the platform receives a low amount of visitors per month, estimated between 100,000, – 1,400,000 a month [Last Checked 25.5.2020]. It might be attributed to the complexity of using the software especially for traditional poker players.
Support can only be contacted by the dedicated support tab in the software, they are fast to reply to queries, you can always use their FAQ section or Telegram section if you are looking for fast assistance. If you are looking for a deeper read, you can check their BitcoinTalk page
Join Coinpoker
Report Casino