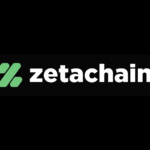 ZetaChain Airdrop
In a bear market investing in cryptocurrencies is boring and barely profitable due to the lack of volatility and loss of hype. Gone were the days where investing in a random uniswap meme token was enough to give you back multiple X's in a time-span of less than an hour or when a simple tweet by Elon Musk was enough to drive the crypto prices parabolic.
However, there are always ways in which you can potentially earn free crypto by simply being early, interacting with a protocol in hopes of receiving an airdrop.
Before we dig deeper into how you can potentially be eligible for the Zetachain airdrop, let us briefly explain what is an airdrop.
An airdrop is a marketing strategy employed by any new crypto project that rewards early users that interacted with their protocols with free tokens. Tokens can reach up to 5 figures or more in value as we have seen in the various airdrops that occurred such as the Uniswap Airdrop, the ENS airdrop, the LOOKS airdrop, etc
The latest airdrop that officially brought back airdrop season was the APTOS $APT airdrop where a total of 20,076,150 APT was airdropped to early users. Users who simply interacted with the APTOS testnet protocol were incentivized with 150-300 APT which equates to a sum of 1400 – 2826$ as of 25-10-2022.
The ZetaChain Airdrop
---
Overview:
Zetachain is a decentralized blockchain that enables smart contracts built for omnichain interoperability, meaning that it supports cross-chain transfer of assets between multiple blockchains such as the Ethereum Network, the BSC network and the Matic network.

In a a nutshell the following eliminates the need for bridges and unifies all blockchains regardless if they are EVM based or not, many could argue that omnichain interoperability is the future of cryptocurrencies.

Steps to qualify for the ZetaChain Airdrop: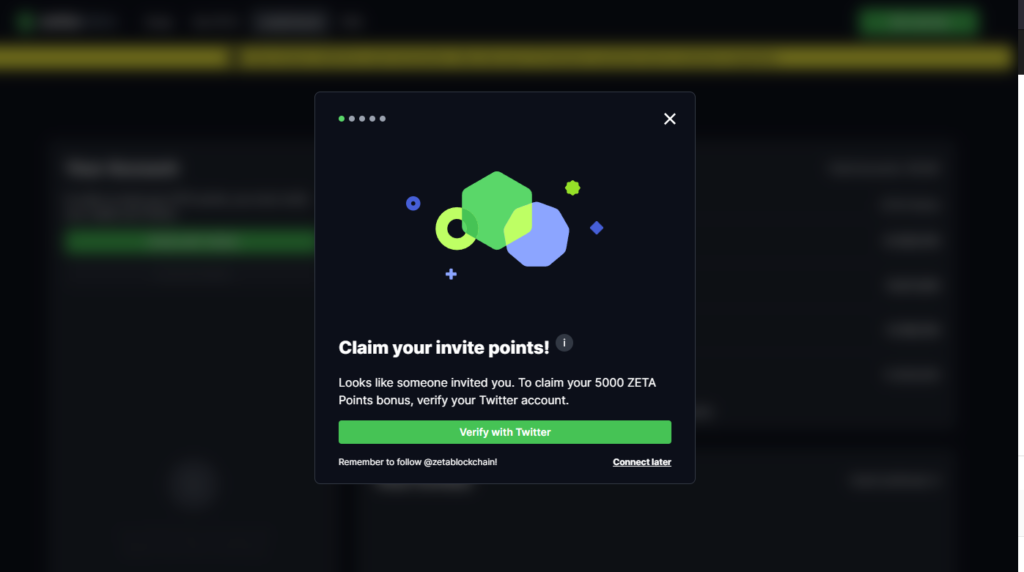 Connect your Metamask account, we suggest using a dummy account for all potential airdrops. You will also notice that you will automatically switch to the ETH Goerli Test Network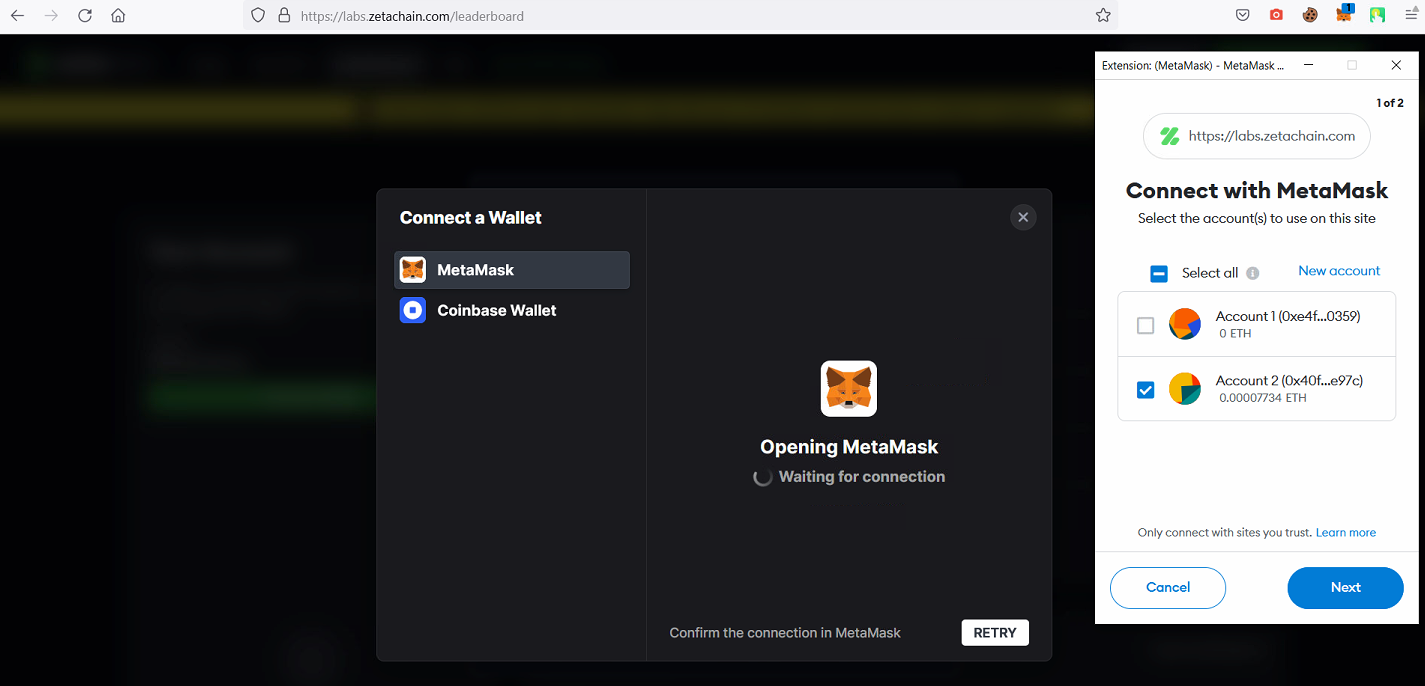 After you have connected your wallet, make sure you confirm your wallet by clicking on "

Confirm Wallet

" as shown in the picture below [IMPORTANT STEP]. You will notice that you have earned 5,000 ZP or Zeta Points.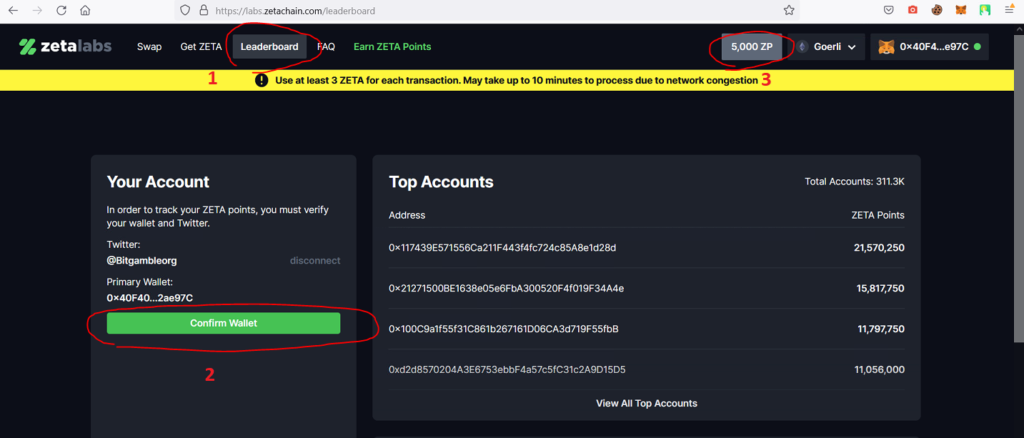 Zetachain Airdrop Testnet Interaction
However the above steps are not enough to qualify for a potential airdrop, take into consideration that there are 312,000 wallets, and if all those wallets completed such basic steps and received 5000 ZP then either the airdrop value is going to be very low or the more interactions a user does with the testnet, the higher the reward that they get.
Zetachain Testnet Interaction
There are multiple ways that you can interact with the Zetachain testnet and increase your chances of getting more rewards if an airdrop is going to occur.
Click on 'Get Zeta' in the navbar as shown below, then click on request assets, you should get a confirmation message that you have successfully requested 2 ZETA! This action is available every 24 hours, so make sure that you request assets every 24 hours.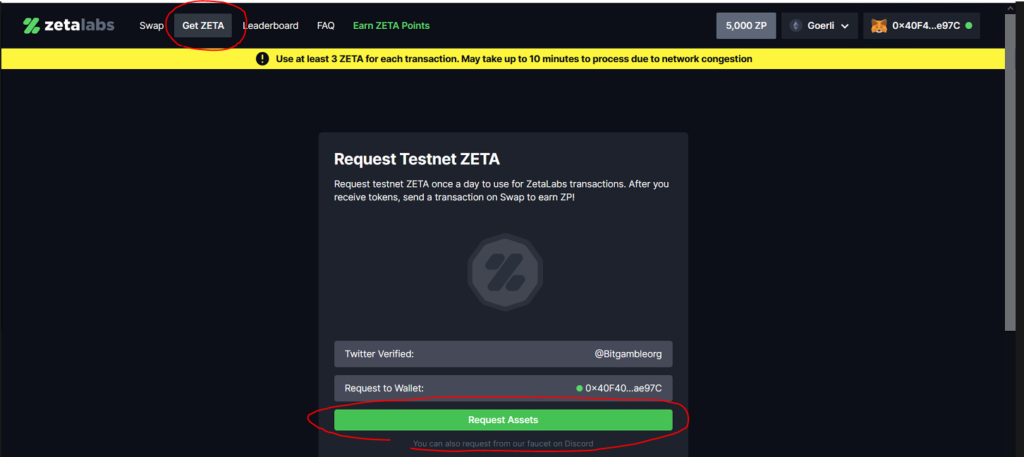 Click on '

Swap

' in the navbar to perform a cross-chain swap. However before we explain on how to execute a cross-chain swap first you will need to have

Goerli ETH

in your wallet which are Ethereum test tokens that you can claim for free. The most popular and safe website to earn Goerli Eth is the below:
https://goerlifaucet.com/
https://faucets.chain.link/ (another website that gives you 0.1 gETH every hour)
Create an account on goerlifaucet.com, skip any step that prompts you to write payment information or any other information. Once done paste your address (make sure it is the same address that you used to connect to ZetaChain and click on Send Me ETH

After clicking send you should receive 0.1 GoerliETH
NOTE: You can only claim 0.1 GoerliETH daily
After receiving your GoerliETh you can go ahead and perform the cross-chain swap, make sure to fill the information as the picture below, by selecting the first network destination to Goerli and asset as gETH and the second destination as BSC Testnet and asset as ZETA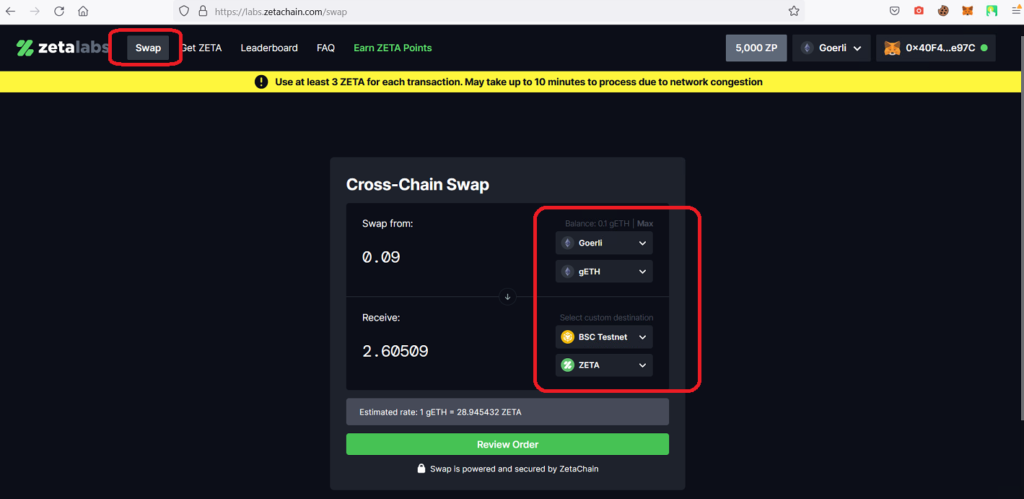 Click on Review Order -> then SWAP and wait for your TX to complete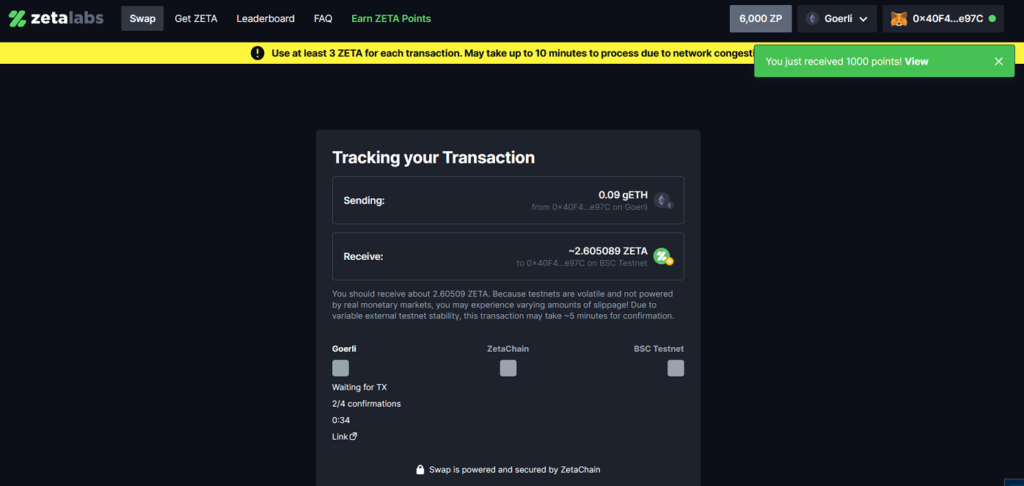 When your transaction completes you would get 2.6 ZETA in your BSC testnet wallet and will have an additional 1000 POINTS. Make sure to repeat both actions every 24 hours.

As an additional step, you can participate in this campaign set by Galxe in collaboration with ZETA and earn a free OAT. All you have to do is follow ZETA and join their discord.

If you have any additional question or stuck at some place , contact us @bitgamble on telegram.